Bay Window Curtain Ideas

That work perfectly and look great!

If you are looking for bay window curtain ideas before you commit to buying your next curtains. Then you are in the right place.
You can choose from a simple pencil pleat gathered heading on your curtains. This is the lowest cost option and our most popular curtain heading style. 
We offer 5 different options for the heading on your curtains. Take a look below at the images and I'm sure you find one that works for you.
All our curtains and tracks are designed for long term real world use. If we find a fabric that doesn't make or hang well. Then we simply drop it from our range.
If we find a track or pole that does not work smoothly from day one. We remove it from our range even if we get a lot of enquiries for it.  Hence why we won't offer bay window curtain poles.
Curtain Styles
| | | |
| --- | --- | --- |
| 6 inch Deep Pencil Pleat | Double Pinch Pleat | 3 inch Deep Pencil pleat |
| Eyelet Heading | Wave Style Heading | |
We currently have a leadtime of around 4 weeks
We are closed for holidays
We will be closed from Saturday the 8th of May until 8am on Tuesday the 17th of May.  Any curtain orders placed will still be processed during our absence. There will be no one to answer the phone but we will still be replying daily to enquiries via our contact form here.
These curtains have a pencil pleat gathered heading. They have been made a few cm's over long and deliberately break onto the floor. Sometimes this can be a good option if your floor is not level. You can disguise the problem.

Curtains And Pelmets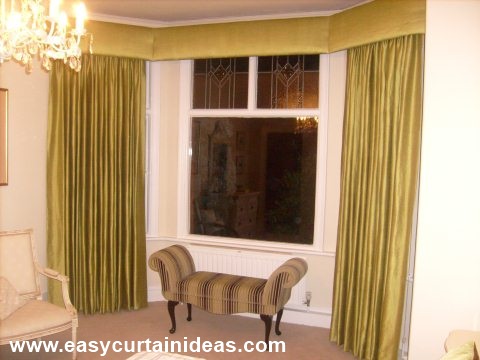 In the picture here you have a pair of lined curtains with an interlining fabric hanging from a bendable bay window curtain rail. The curtain track is fixed to the underside of a pelmet top board. This allows one pair of wide curtains to be used rather than separate curtains on each window. Next a padded pelmet is fitted to the front with velcro tape.
These curtains were ready to have curtain tie backs fitted to hold them back off the side windows due to them being so bulky. Discover more about curtain pelmets here.

Tracks that work great with bay window curtain ideas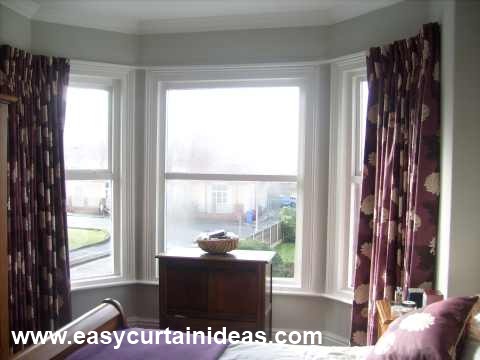 This image above shows a pair of lined curtains with a double pinch pleat heading made to fit this bay exactly. Again they are hanging from a bendable bay window curtain rail.
It's a simple and tidy way to hang curtains in a bay window. Not everyone likes to have window top treatments such as window pelmets or frilly valances.

Special Bay Window Curtain Rails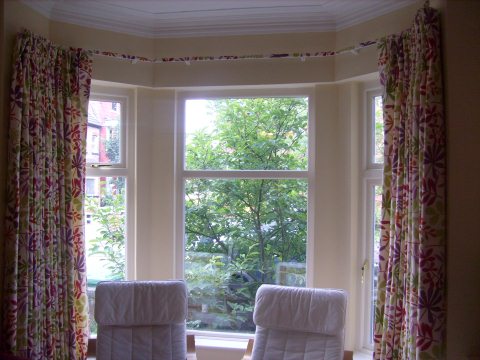 These bay window curtains just here shows a pair of lined and interlined double pinch pleat curtains. These are hanging from under a special bendable bay curtain track. This kind of curtain rail allows you to fix a curtain track cover to the front edge of the track.
The bay window curtain rail has a strip of velcro built in to the front. This allows a fabric strip with a velcro back to attach and cover the track. It just simply decorates the front and allows the curtains to hang under the track. Just like curtains hanging under a bay window curtain pole.

Roman Window Blinds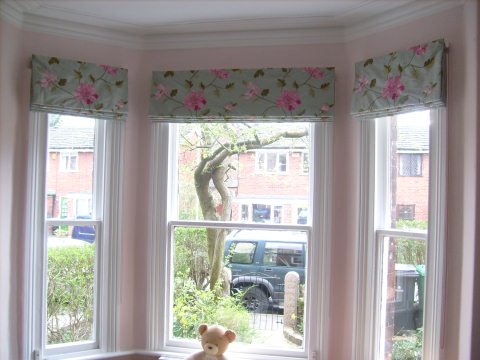 This image here shows us roman blinds fitted to the three windows in a bay. These blinds are fitted so that the complete window surround trim disappears behind the roman blinds when they are down.
You can have them made smaller then they would sit inside the window trim. Sort of creating a frame around the roman blinds.  Either way is ok,  just a matter just personal preference.
Discover more about roman blinds here.