Bay Window Curtains That
Cost Next To Nothing
I guess you arrived here because you were looking bay window curtains! Duh...of cause you did. 
I bet you have also been searching high and low to find some curtains that will fit your bay window properly.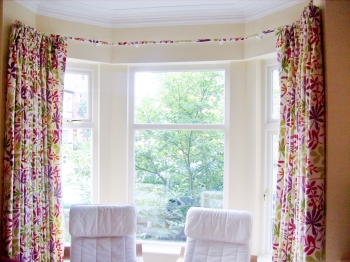 I also bet you have been struggling to find any readymade curtains that are wide enough, let alone the right length to do the job. 

This is where if you haven't discovered already. You will not get ready made curtains anywhere at the right sizes. Sorry to be the bearer of bad news :-(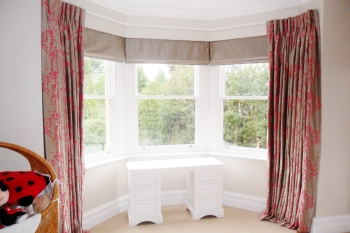 Bay window curtains with roman blinds
You really have no choice but to have to get some made to measure curtains. This is the only way to cover windows of this size. That is so they look well dressed, and not like a dogs dinner.
You may have tried hanging two pairs of ready made curtains on your bay window. They may look fine when pushed back off the window. However I'm sure even you will admit that they just don't look the best (that's saying it kindly) when closed.
You just can't hide the fact that they are two pairs hanging together. They just don't sit right. The only real choice you have is to "bite the bullet" and get some made to the right size. Yes it's going to cost you a lot more that most regular ready made curtains.
Extras List
A choice of well over 10,000 plus fabrics.
Enough width in curtains to fit properly.
Choosing exactly how long or short.
Choosing the heading style you want.
Choosing the kind of curtain linings you want.
Ending up with something that massively improves the look of your room.
The good news, and there is good news :-)
For parting with more of your hard earned cash. You will get a lot of extra goodies that you don't get with ready made curtains in a cellophane bag. Take a look at my list of extras here.
A Word Of Warning
If you plan on moving house in the next 18 months. Then don't waste money buying made to measure curtains. Buyers just won't pay as their tastes are often different than yours.
So you will not get it back in the sale price on your home. You will also probably struggle to find a window in your new home that is exactly the same size.
Made To Measure Curtains, Make Money Sense
Now if you are staying put for the long term. As in 5 years on more then getting custom made curtains make good sense. I know that for most people, especially if they haven't bought made to measure curtains before. The cost comes as a nasty shock :-(
However once you start to breakdown the cost over the life of your curtains. The yearly cost starts to look really reasonable. It's just like buying a good quality sofa or dining suite. Let's say you spent £ 400 on a great pair of new curtains for your bay window. Over a 10 year life span that breaks down to £ 40 per year. Which is next to nothing in real terms.
If you break it down ever further just for the fun of it. On a weekly basis it amounts to less than 0.77p per week.  What can you buy for that sort of money?  If you are still looking for ideas. Then check out the bay window curtain ideas page here.
I also recommend after reading this page on bay window curtains, that another good idea would be to look at the bay window rails page here.