Blackout bedroom curtains
That really work well!
Just buying a pair of blackout bedroom curtains and hanging them won't make your room as dark as you think.
There are several important things you need to think about before you get started on this kind of project. Especially if you really want to get the very best results. That is a bedroom that is as dark as you can possibly get.
In the image above you can see a roman blind on the left and a single curtain on the right. The blackout roman blind does a really good job. However it is not  anywhere as good as the curtain. If you want it to be really dark, then curtains are the way to go.
There are some definite do's  & definite dont's

The dont's list
Don't buy eyelet curtains.

Don't hang your curtains from a pole.

Don't  buy short curtains.
The do's list
Do buy long curtains.

Do buy wider curtains.
Do use overlapping curtain tracks.
Do fit a curtain pelmet
If you stick to all the above things on these lists you will get great results. However you can get even better results by doing a few other things besides.
Eyelet curtains and why not!
You can buy either ready made eyelet curtains or have made to measure eyelet curtains made to order. But when it comes to getting room darkening curtains. This curtain style is definitely not the way to go.
The first reason is that the light leaks through almost every eyelet ring when closed. Also the light leaks out from the top of each fold in the curtain heading. No matter how you hang your curtains they won't block the light as much as the other options below.
pleated curtains are your best option
You can choose between pencil pleat tape top curtains or pinch pleat curtains. They both work just as well. Pencil pleat curtains are the lower cost option as they don't require as much fabric in the width. Also the heading style costs less to make. You may be lucky and have a window size that works with a ready made blackout curtain. 
Pinch pleat curtains, that is either a double pleat or a triple pleat. These require more fabric in the width to make and the heading style is created using hand sewing. So both these factors make for a more expensive but more attractive curtain. This curtain design will almost certainly need to be made to measure.  

Blackout bedroom curtains that fit right!
Returning the outside edges of your curtains back to the wall. You can use a screw eye on each side to bring the last hook on each curtain past and around the end of the curtain track. Then right back tight up to the  wall. So blocking almost all the light coming from the sides of the curtains. 
Another good tip is to make your curtains hang even wider past the window recess than normal. So for instance if the usual past each side 15cm (6 inches). Then you should make it 25cm (10 inches) past  each side. The wider the window, the further past each side you want your curtain to hang. 
Also the longer your blackout bedroom curtains are past the window sill the better for light blocking. However floor length curtains are the best option. If you have furniture under the window. Then consider moving it little forward so your curtains can hang behind.
Using curtain pelmets
In the image below you can see a pelmet top board I have made fitted with an overlapping metal curtain track. This allows the curtains to comfortably pass each other when closed. So giving you an almost  total light block from the centre. Another benefit of using a pelmet top board is that 98% of the light is blocked from  leaking out of the top over the curtains. Then attaching the pelmet fascia and sides using velcro tape blocks even more light.

Finally a really great example!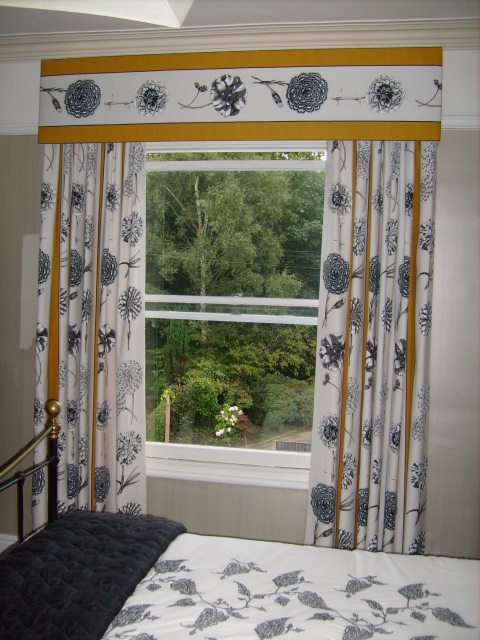 In the image above  these blackout bedroom curtains I fitted are a classic example. These have everything good room darkening curtains should have. 
Floor length black out curtains, overlapping curtain rails, deep pelmet fascia, outside edges returned right back to the walls, extra wide for more light blocking.  
I hope these curtain design ideas will help you get the results you are really after :-)