Window Treatment Enquiries
Our curtain and blind making, and fitting services are provided within a twenty five mile radius of central Manchester. We will travel further depending on the kind of work involved. The map below gives you a rough idea of our working area.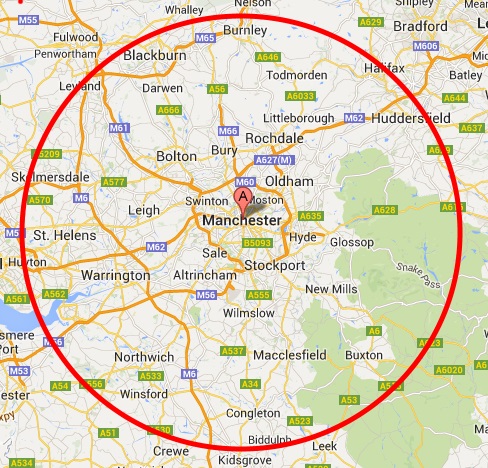 So how does it work?
There is a simple enquiry form a little lower down on this page. Enter your details and tick a few boxes and add any additional info. We will then get back to you usually the same day (Mon to Fri).
Please do use the upload your photos section to add photos of all the windows you are interested in getting quotes for. This really does help us get a good idea of whaat needs to be done. If we spot any problems then we can advise you early on. We can also use the photos to estimate your window sizes. Then we will be able to give you rough ideas on cost for your chosen window treatment. If you have any sizes then great, you can add them in the additional info box. 
Free Estimates
Once we have given you an estimate of costs for your project. If this fits with your budget. We can then call over and do a survey and accurate measure. Then give you a fixed price quote. Hopefully this will not be very far of from our original estimate. 
Then if your happy with everything we will get your new curtains or/and blinds on the go. If you have any other questions. Then please feel free to ask contact us. 
Links to curtain hardware pages
Another good idea before you get started is to check out the pages on how to measure for curtains. You will discover tips and advice on how to measure to get the perfect fit. This is one of the biggest areas for mistakes.