Curtain Pelmets For That Designer Look

What's so special about these?

I just love the look of these curtain pelmets , especially on bay windows.  They are the modern alternative to  frilly valances or swags and tails.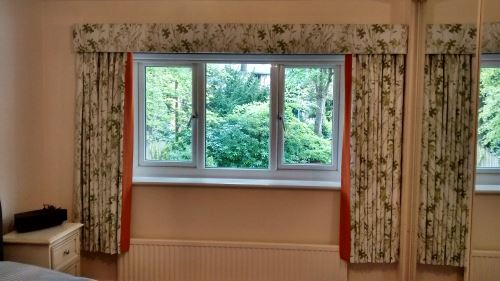 Why would you want to fit a window pelmet over the top of your window...?

for several reasons such as....
Firstly they just look great and finish off the window treatment.
They can disguise sloping floors and ceilings.
Hiding not so attractive curtain tracks.
Being creative with an empty section of wall over your window.
They really do frame a window and really compliment the curtains. You can have from a very simple straight finish as in the image here, to really fancy designer pelmets.
I have to admit these are one of my personal window curtain design favourites. The curtains are a little over long so they "break" onto the floor. This gives then a more luxurious look. The image below shows a box pelmet, curtains over a roman blind. 
Designer Curtain Pelmets
The window treatment image above is more of a designer looking pelmet. It is very shaped with deep sides and a tassel trim on the bottom edge. It really suits this Victorian style home. However it would look out of place in a modern style home.
From a cost perspective it can cost roughly three times as much as a straight pelmet with no trims. So make sure you really love it as you will have it for a long time :-)
I must admit I don't make ones as fancy as this very often but I do like the challenge. Sorry about the terrible photo, I always struggle taking pictures facing the light source. All the advice says you should have the light source behind you not in front.  So I'm open to any help from better photographers than me :-) 
Take a look at more shaped window curtain pelmets here
Bay window pelmets
Bay windows take a bit more care and time  in the measuring but look fantastic when finished. These can be made to fit almost any shape bay window. 
I get asked all the time about supplying and fitting bay poles. My answer is always the same. Don't do it and spend your money on a bay pelmet.  I won't go in to all the reasons why now other than to say the biggest problem is opening and closing the curtains.
You are far better of with metal curtain track bent to fit your bay shape. Then using your curtains will be a dream. Even better fitting a pelmet over the hardware and you don't see anything but the  nice stuff. Take a look at the bay window curtain pelmets page here. You can use the calculator to discover how much fabric is needed and also get a costing to make one to fit your window exactly.
Do you have very long curtains
The curtain picture above shows you how a really difficult window can be transformed. This curtain is opened and closed with a good quality corded curtain track.
With tall windows like these it is almost impossible to open and close the curtains by simply pulling across by hand. 
Also there was no room to fit a curtain pole as the window was right up to the ceiling. so adding this deep pelmet to the curtains gives some balance to the whole window treatment. Very long curtains over a doorway. So simple yet so effective!
Take a look at more straight window pelmets here.
This curtain photo above shows curtains with a padded pelmet. Both in silk curtain fabric with co-ordinating borders on both . This makes what could be a very ordinary window treatment in to something special.
A square bay window with upholstered pelmet. A simple classic look without over powering the room.  Take a look at the bay window curtain pelmets page here. You can use the calculator to discover how much fabric is needed and also get a costing to make one to fit your window exactly.
A pelmet box can be added to even a very small window. Just like the bathroom window treatment above. It was just deep enough to look right and cover the curtain track. Without taking any light away from this small bathroom window.
The curtains have only one width of fabric in each side. They were only really used to dress the window but had just enough fullness to be closed.
Designer Curtain Fabrics
In the curtain photo here the same fabric design was used for both the curtains and the pelmet. The curtains were made with the pattern running down the curtains. Then the padded  pelmet was made with the fabric running across.
This allows you to get the full benefit of this kind of beautiful curtain fabric design. You also get the added benefit of not having to join widths of fabric to cover the pelmet width. With many patterned fabrics on wide window pelmets. You end up with joins running down on the front of the pelmet. This is unavoidable when using fabrics definite directional designs.
You really wouldn't want a horse running sideways across your pelmet for instance :-)
Take a look at more straight window pelmets here
Some times I come across really difficult to dress windows like this dormer. This is when pelmet shapes like this one can be made to fit almost any space using a paper template. I think this a fantastic way to decorate what would have been a boring empty space over this window.
This pelmet is covering a laminated fabric roller blind. However curtain pelmets like this could just as easily be covering a roman blind or pair of curtains. These unusual shaped pelmets can really do a great job of decorating odd shaped spaces such as this dormer bedroom window.
Take a look now at my other dormer window pelmets projects right here.