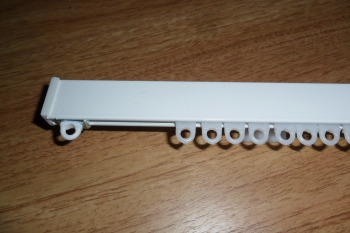 ***** Closed for holidays *****
Any orders placed using the form below will  NOT  be completed and delivered until sometime during the first week in October.  You are free to place an order on this understanding. 
We will review all orders before making up. If there are any queries we will contact you before we start. 
Overlapping tracks
A great option especially if fitting in a bedroom is the option to have your new track made with an  overlap in the centre. This is good for blackout curtains as they will pass over each other. So blocking the light gap you so often get when curtains simple butt up together.
Delivery
Most times of the year delivery takes between 5 - 7 days from placing your order. If there is going to be much more of a delay. We will advice you at the time of purchase.