Curtain Styles

Which curtain designs to choose & why!

After almost twenty years in the made to measure curtain business. These curtain styles just below account for more than 90% of sales.
So in the spirit of keeping things easy and simple. We decided it makes sense to offer you reviews and advice on these curtain designs.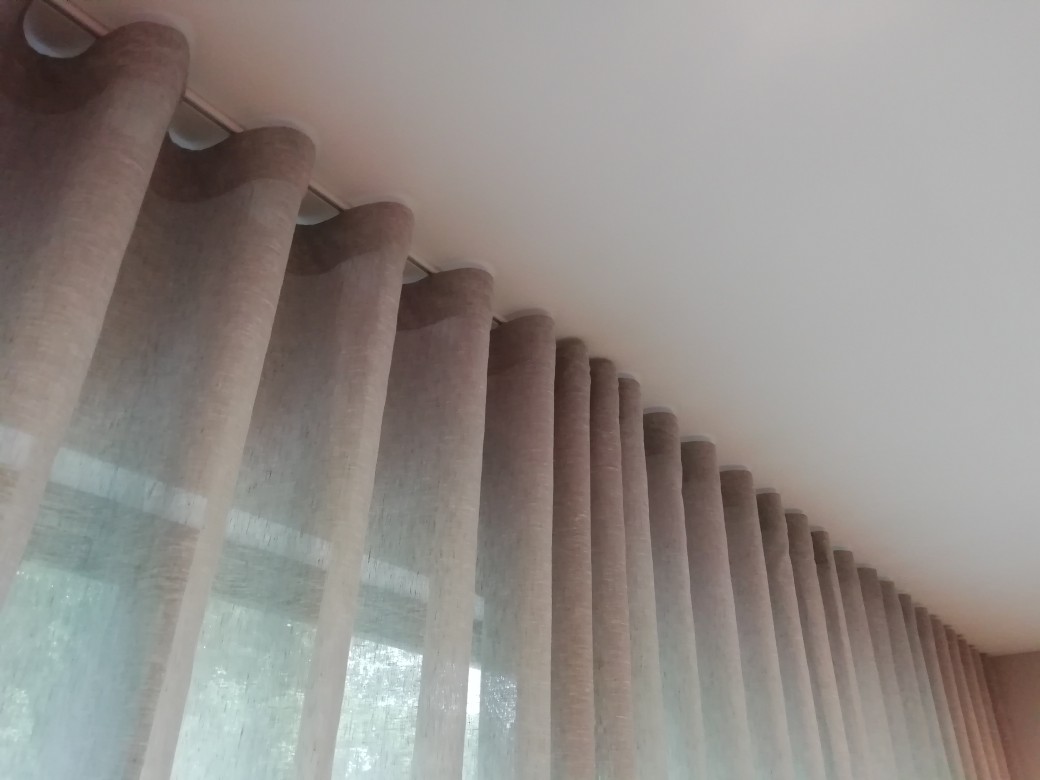 ---

Curtain styles with a great top treatment
Another alternative / addition is to top off your window with a top treatment. In the image here you can see an upholstered padded pelmet This has been made using the same fabric as the curtains.
The stripe design runs down the curtains. Then the stripe design runs across the window pelmet. This I think this gives a really great visual effect.
Be aware though that not all designs work so well when used this way. The only way to tell is to study the design on the curtain fabric carefully before buying. When buying curtains most makers will happily sell you a metre or two extra of the same fabric.
Most of the major online curtain makers won't make box style pelmets like this. So just ask me to make one for you in your own fabric :-)
---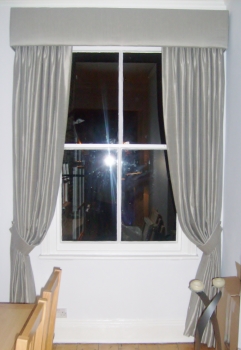 Here is another pair of curtains together with a window pelmet. This one has been made in a plain faux silk. I really like using this fabric but only when used with a curtain interlining fabric to give it body  and that luxury look. They not only look great, but also can be very practical for a few reasons such as:
Disguising sloping floors and wobbly window recesses
Blocking light from the top of windows in bedrooms and nursery's
Hiding ugly bits of walls over the top of windows
Hiding curtain tracks from view
Discover more about curtain pelmets here.
---
What makes a great curtain ?

Not all curtains are made equal and there are some major differences. So I have made some list for you to look at and think about before you commit to ordering any new curtains.

Number one
Are you going to go for hand sewn curtains or machine made curtains? Cost will be big factor in deciding this. Often it is hard to see the difference between machine and hand sewn.
Discover more about hand sewn curtains here

number two
Will your new curtains  be lined or not. If so what kind of curtain linings should you choose? 
Discover more about lined curtains here
number three
Will your curtains be made with curtain weights?  Does this really matter or not you may ask. Well it can make a big difference to some curtains. 
Discover more about curtain weights here.
number four
Some online curtain makers only offer a limited number of curtain styles. Such as pencil pleating tape or eyelet curtains. 
Discover more about curtain headings here.
Blackout bedroom curtains
Just buying a pair of blackout bedroom curtains and hanging them won't make your room as dark as you think.
There are several important things you need to think about before you get started on this kind of project. Especially if you really want to get the very best results. That is a bedroom that is as dark as you can possibly get.
Discover more about what make great blackout bedroom curtains.