The great thing about these metal curtain Tracks is that not only they top quality and very strong. They also come in widths up to 6 Metres (almost 20ft) wide in ONE piece. "Did I mention they also look really neat".

What else is important when choosing the right kind of hand draw curtain track or curtain rail,  ...and why does it matter? This check list below shows the important stuff you need from your new track to perform well.
Such as....
Comfortably carry the weight of your curtains.
Be fitted exactly where you need your curtains to hang.
Operate your curtains smoothly and easily.
Look neat and stylish when fitted.
Anything beyond these criteria are simply personal preferences but not essential. 
I'm not going to go through all the makes and brands of curtain rails available on the market today. But believe me that 80% of what you can buy is just not good enough to meet the basic demands list just above.
To start the ball rolling I want to say NEVER buy PLASTIC curtain tracks.
Yes they are cheaper to buy. However the difference in quality on all points between plastic and metal curtain rails is huge. 
Not only is the quality and long term performance lower. If you buy the plastic tracks that are sold coiled. They will never unwind in to a truly straight line. They have a tendancy to waver between the brackets when fitted. 
In general plastic curtain rails have a maximum 10 year life span. Towards the end of this time it becomes harder to open and close your curtains. The brackets and gliders become brittle and start to snap. The plastic also starts to become grubby and discoloured.
With the metal tracks, as in the image here. You get a vastly longer life span at least 20 years, often longer. Also during this time your curtains will operate easily and smoothly.
They also don't discolour the same as plastic does. Most of the brackets and gliders are also made using nylon which performs better. Also giving a much improved life span.
Take a look just below to discover what's so great about this kind of tracking.
Metal Curtain Tracks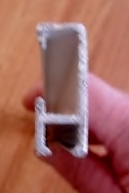 The box section profile is what gives this track its strength. Along with the thickness of the metal used.
These tracks have a groove in the bottom edge for the gliders to slide along. Why does that matter?
With other tracks where the gliders hook over the top of the track. What happens over a long period of time. Is that dust and other particles settle on the top of the track. Then when the curtains are opened and closed. The gliders run over the deposited particles and scratch the top edge of the track ever so slightly each time. 
So over longer periods opening and closing your curtains gets more difficult. As the gliders don't run as smoothly.
With our metal curtain rails with the channel for the gliders being under the track. It is a lot more difficult for dust to settle in this channel. So giving a much longer period of smooth operation.
In my opinion it also looks so much neater, I think you will agree with me :-)
Get an exact price for a new metal track made to your size using our online price calculator.

This curtain rail is made of a heavy guage aluminium. Also looking at the end shows the box profile shape ( see image here).  
Both these things allow it to carry heavy curtains with ease. Unlike some other similar looking tracks that are unable to perform as well due to being made with a thinner guage metal.
Curtain Track Brackets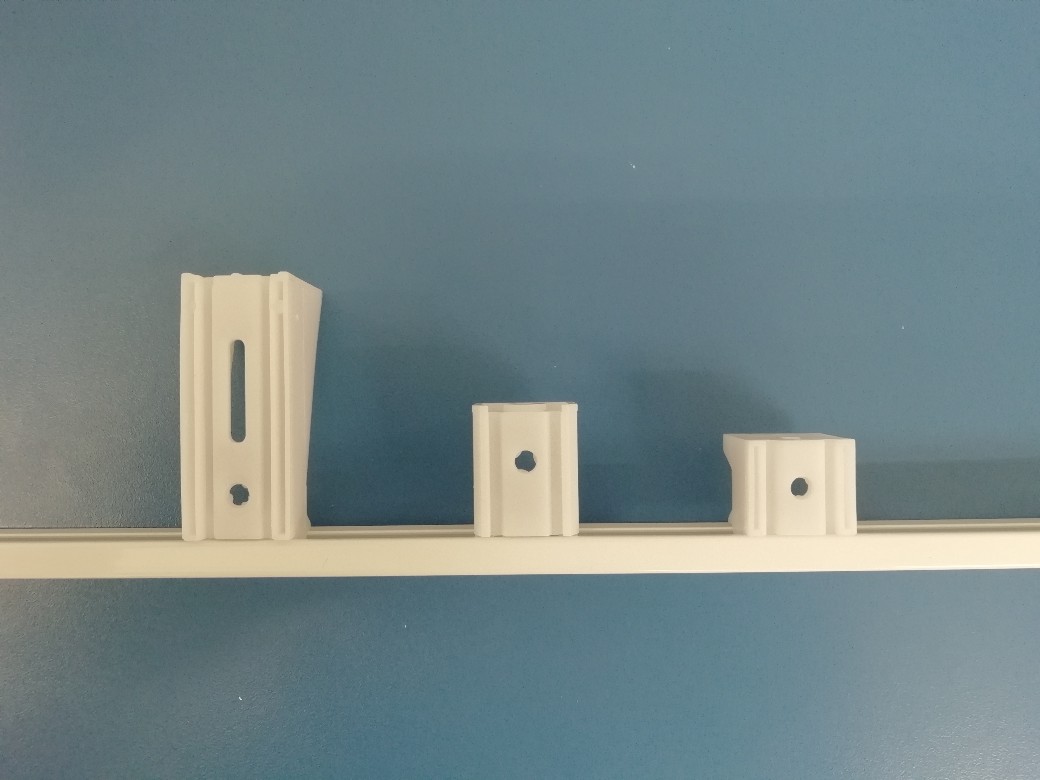 Another really great thing about this curtain tracking system is the brackets. You have a choice of 3 types of brackets. 
 Universal 3cm reach clip in brackets
Universal 4cm reach clip in brackets
Universal 6cm reach clip in brackets
("reach" being the distance from the wall to the front of the track. "Universal" being able to fix to a wall or ceiling.)
This gives you lots of flexibility when it comes to fixing your track exactly where you need it to be. Sometimes you need to have the curtain rail that little further away from your window. 
Another great thing about these brackets is the way they fit to the track. After you have fixed your brackets to the wall over your window. All you need to do is place the track to the front of the brackets. Then tap firmly against the front of the track where it meets the bracket. You will then hear a "click". This means your track is now firmly attached to the bracket.
It's so easy and simple to do. Compared to other curtain tracking systems. Where you need to loosen and tighten screws to secure the track to the brackets.
Why Not Let Us Make One To Your Exact Size
Discover how much it will cost to get a made to measure curtain track. We make them to your exact sizes. No having to cut down and assemble the pieces. Just unpack and secure the brackets over your window. Then click the track in place, job done!
Get a price now using the calculator just below.  FREE Delivery on all orders for made to measure curtain tracks.