Not only is the quality and long term performance lower. If you buy the plastic tracks that are sold coiled. They will never unwind in to a truly straight line. They have a tendancy to waver between the brackets when fitted. 
In general plastic curtain rails have a maximum 10 year life span. Towards the end of this time it becomes harder to open and close your curtains. The brackets and gliders become brittle and start to snap. The plastic also starts to become grubby and discoloured.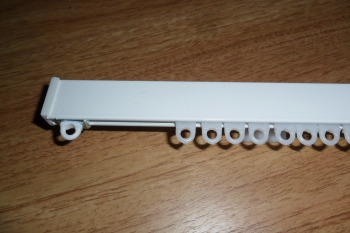 With the metal tracks, as in the image here. You get a vastly longer life span at least 20 years, often longer. Also during this time your curtains will operate easily and smoothly.
They also don't discolour the same as plastic does. Most of he brackets and gliders are also made using nylon which performs better. Also giving a much improved life span.
Take a look just below to discover what's so great about this kind of tracking.
Metal Curtain Tracks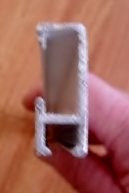 The box section profile is what gives this track its strength. Along with the thickness of the metal used.
These tracks have a groove in the bottom edge for the gliders to slide along. Why does that matter?
With other tracks where the gliders hook over the top of the track. What happens over a long period of time. Is that dust and other particles settle on the top of the track. Then when the curtains are opened and closed. The gliders run over the deposited particles and scratch the top edge of the track ever so slightly each time. 
So over longer periods opening and closing your curtains gets more difficult. As the gliders don't run as smoothly.
With our metal curtain rails with the channel for the gliders being under the track. It is a lot more difficult for dust to settle in this channel. So giving a much longer period of smooth operation.
In my opinion it also looks so much neater, I think you will agree with me :-)