Do you need a good quality curved bay window curtain track?
Very likely if you are reading this webpage. So why not take a look at this one we recently made and supplied to a customer of ours. They were very happy with the end result.
Also this customer had never measured or fitted a curtain track like this before. With a little advice from us, he was able to do both things with ease. His exact words were...
"Hello Lee, The track arrived today and very well packaged indeed, thank you. We put it up today and just as you say it was very easy.  All the best Paul"
Curved bay track  photos
kindly supplied to us by our customer
Our customer not only asked us to make a curved white metal curtain track to fit his bay window. He also asked us to take in to account he was having new blinds fitted. After a brief chat about how much room to allow for the new blinds. We allowed an 8cm gap when making the new bay track to allow for this.
Fortunately as is most often the case. The curtain track and the blinds both fitted perfectly.
Honestly I didn't have my fingers crossed when I dispatched this one ;-)
Paul as had these kind words to say "It fits perfectly and looks beautiful"
Steady on Paul, its only a curtain track :-)
However if you want to say anything else nice about our curtain tracks or service. Then who am I to say stop.
Fitting your new bay track
Often I get questions asked alaong the lines of "I'm worried about fitting a bay track to my ceiling". 
If you click on the link just here fitting to a ceiling. You can read the conversation I had with another customer.  I chatted about how to approach this kind of project. Again my customer commented on how simple it turned out to be. 
Like most things in life, having a simple plan of action. Helps to keep you out of getting in to a mess.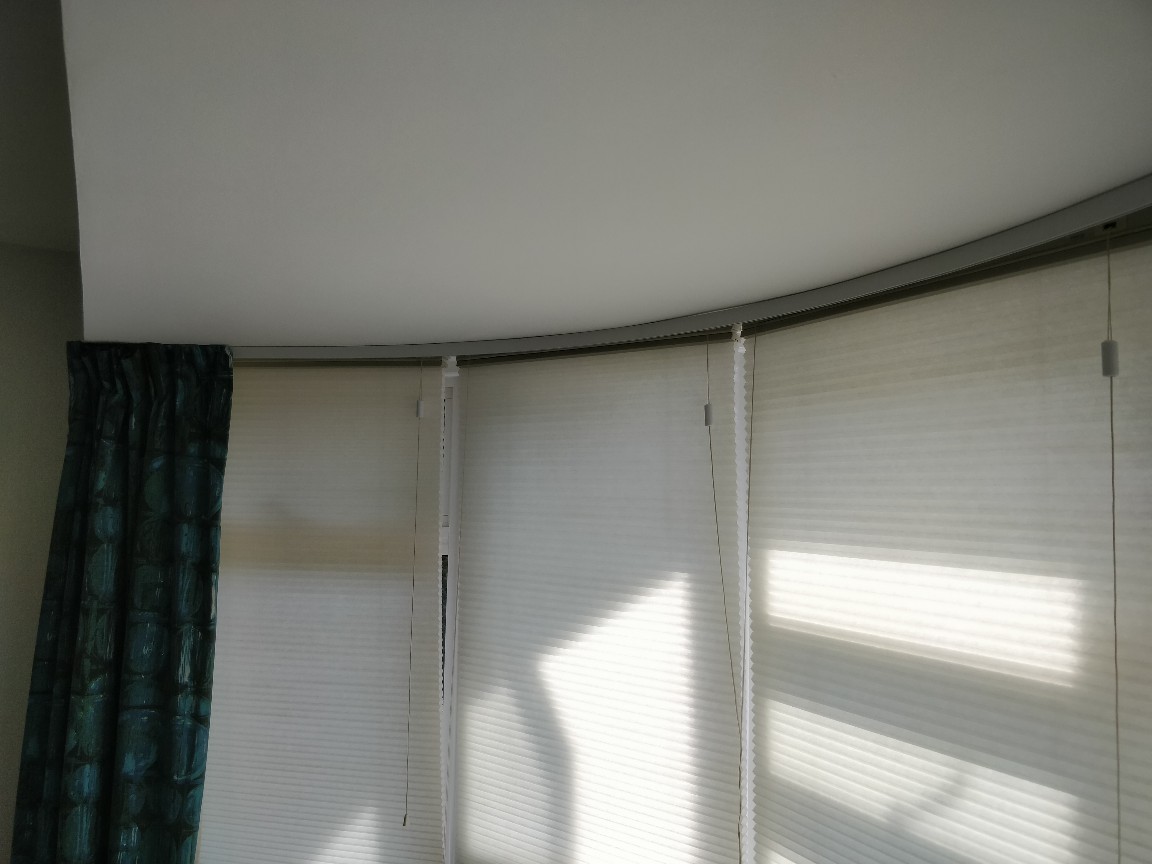 Customers comment on how neat and discreet these curtain tracks look when fitted. They also comment on how strong they are especially when fitted. This is compared to the terrible plastic tracks they have used previously.
All our  curtain tracks come pre sprayed with silicone. This means your curtains will glide smoothly across the track with very little effort. 
Finally a few more kind words from the owner of this curved bay window curtain track. "Many thanks for your advice and excellent service".
Interested in getting one to fit almost any shape bay window. Then just either use our Bay Track Calculator here. Or send us a photo of your window and a brief description of what you want to do. Using our Contact Form just here.