Made to Measure Curtains
Made to measure curtains for the times when ready made curtains will just not do the job. Some times you just have to bite the bullet and pay more if you want to get the job done properly.
Yes made to measure curtains will as a rule cost more than ready made curtains. However, there are 2 times when you really have no choice in the matter.
The first reason is that you simply can't get the size you need. Ready mades are just not wide enough or long enough. Especially true for bay windows.
The second reason is that with ready mades, either, the fabric, colour or design is just not right to fit with your room theme.  There is a 3rd reason and that is made to measure curtains just look so much better than ready mades when hanging.
Curtain Fabrics Gallery
Get an instant price & order fabric samples
You will be able to get an instant cost for curtains to fit your window exactly. Simply click on any image or link  to see all the designs and colour options.  You can then choose your curtain style and select the lining fabric you would like. 
Also, available on the fabric pages after you get a cost is the ability to order fabric samples to be posted out to you at home FREE of charge.  We insist on you ordering a fabric sample/s before we would commit to accepting your curtain order.
Computer and smartphone screens often don't reflect the true colour or shade. You can also make sure you are happy with the quality and feel of the fabric. So it really does make sense to see the real fabric before you come back and commit to ordering your new curtains. Fabric samples are dispatched within 24 hours of ordering Monday to Friday. 
Made to Measure Curtains that Come Ready to Hang
If you buy curtains from "ezecurtains" you will not only get top quality curtains. They will be ready to hang straight out of the box on arrival to you. All prepping and hooking will have been done so you won't need to worry about taking care of that.
You will only need to dress your curtains a little. Your curtains will probably have a few creases in them after hanging. You can either wait for gravity to help these drop out. Or you can use a hand held fabric steamer to speed the process up. These can cost from less than £5.
Curtain hooks for hanging your new curtains
When shopping for new curtains it's easy to overlook buying the right kind of curtain hooks. Often people panic after the curtains have arrived. Using the hooks from the old curtains or rummaging through drawers looking for the ones they put away years ago.
The good news is you won't need any curtain hooks if you order your new curtains from us. They will arrive already fitted to your curtains. They will be spaced ready for hooking straight into the gliders on your track. Or into the rings on your pole.
If you are using your existing track or poles then just let us know how many rings of gliders you have. However, if you have had your curtain track or pole up for many years. Then I would recommend you budget for a new one at the same time as ordering your curtains. 
Nothing lasts for ever and the performance of curtain tracks and poles is no different. If would be shame to be dragging your new curtains over old worn curtain hardware. Your new curtains will last so much longer if you can open and close them smoothly.  Plus it's less ware and tear on you :-)
These images here show you the 3 kinds of curtain hooks we use. These can be selected when ordering your curtains.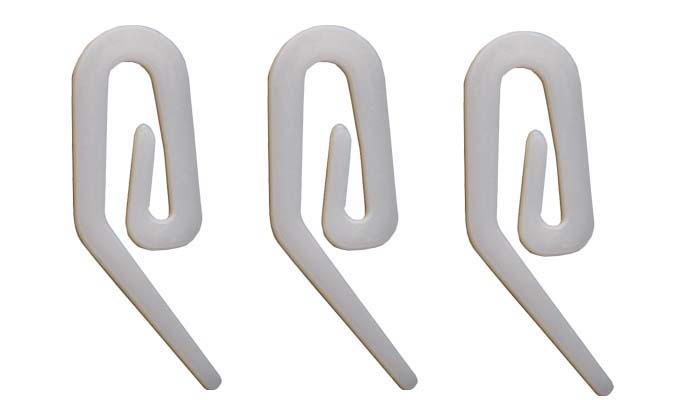 Nylon Curtain Hooks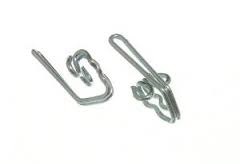 Zinc Metal Curtain Hooks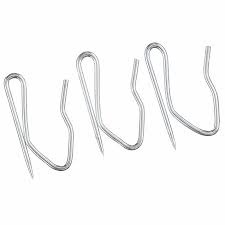 Zinc Curtain Pin Hooks