4 Bend bay window curtain track
by Giuseppe
(Harrow)
Hi Lee, I have a bay window which I think is a 4-way bend. I have attached some pics for you to view and advise.

I want to attach the track to the narrow lip of the wooden section which appears to have been installed for a curtain track onto the bay window ceiling which would make this a wall fitting?

I also would like the track to have a return on the right side (facing the window) as I could then pull it around the bay for better lighting.
Is this possible?

Hi Giuseppe

Almost anything is possible when it comes to our custom made bay window curtain tracks :-)

You can use wall fix/face fix brackets as you say to attach the track to the front lip of the wooden battens on the ceiling. Your track would then literally follow the shape of these battens with shallow bends. The back of the bracket that fits to the wall is a fraction over 2cm deep. The screw hole is set 7mm down from the top of the bracket.

Or you could have the track made in a curve with no bends. This option looks really pleasing to the eye. This would then need to be fixed directly to the ceiling. If the ceiling within the bay is made of plasterboard. Then great you won't have any major problems. It's possible some screws could hit wooden battens in the ceiling. The others would be plugged and screwed using the provided fixings.

If the ceiling within the bay is an old lathe and plaster ceiling. Then probably fitting to wooden batten is the safest option.

Now to your other question about putting a track return on the right-hand side of the bay. I have drawn a quick sketch of your bay shape just blow. Then drew a blue line to represent the track.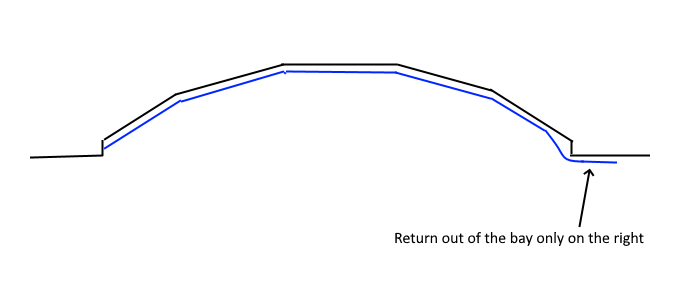 Is this what you have in mind? The track curving out of the bay onto the wall on the right-hand side?

If so this bit of the track would be fixed to the wall using a wall/face fix bracket.

Are you planning on hanging a single curtain on your bay? Then drawing all the way to the right-hand side when open?

If so then this option would work well. If I have misunderstood. Then please let me know using the contact form here.

If I have understood correctly. Then it would cost around £200 to £240 depending on the exact width.

Don't order through the website if you only need a return on the right-hand side. As the template for your bay shape (Curved 5-sided bay with returns) will charge for 2 returns "left and right".

I think that is all for now and I hope this helps you decide if you would like us to make one for your bay window.



All the best, Lee