I am so confident of the quality of my corded bay tracks that I offer an industry beating  ****10 YEAR GUARANTEE ****   (but they will last a lot longer :-)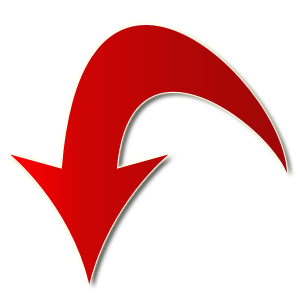 You can carry on discovering more about these great corded bay window tracks below. Before deciding if they are what you have been searching for. I have personally been fitting these corded tracks for more than 20 years. 
Or you can use the big red button just above to go straight to the calculator and get an instant price for one to fit your bay window.
You can carry on discovering more about these great corded bay window tracks below. Before deciding if they are what you have been searching for. I have personally been fitting these corded tracks for more than 20 years. 
Or you can use the big red button just above to go straight to the calculator and get an instant price for one to fit your bay window.
Looking for a hand draw bay window curtain track?? Then take a look at these.
How to use the Corded bay track calculator video
(Calculator at the bottom of this page)
Interesting stuff about these corded bay window curtain tracks
Let me show you exactly what makes these corded curtain tracks so much better than store bought track. Also, many other custom made corded curtain tracks.  I'm certain these will cost more than you had planned on spending.  However, that extra now will give you far superior service for vastly longer than the alternatives.  
Another benefit is that your curtains will stay looking good for far longer. No more yanking on the cords because the curtains are stuck. No more dragging the curtains trying to release a stuck overlap arm. 
The curtain overlap arm on these corded tracks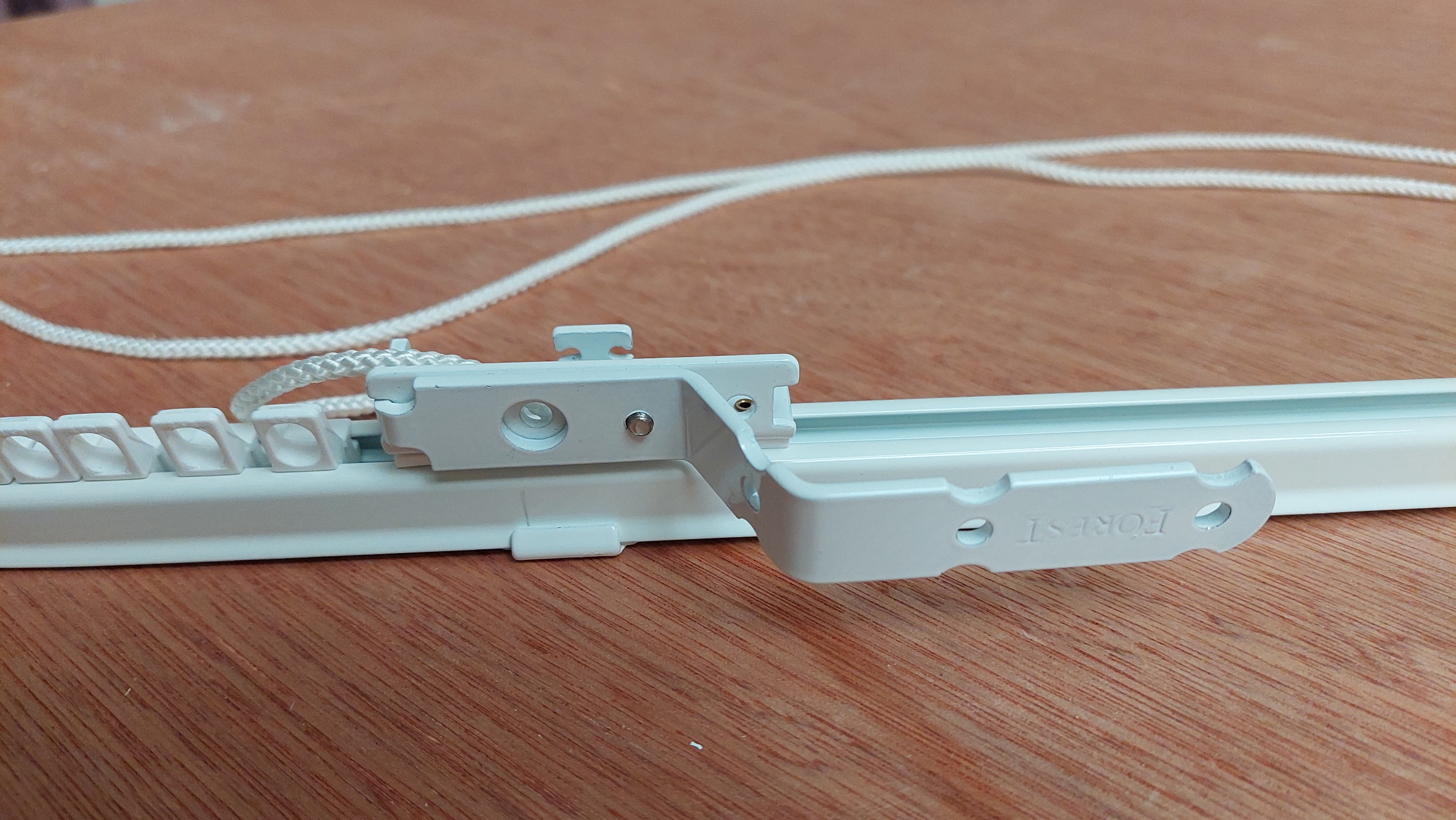 As you can see here the curtain overlap arm is heavy duty and will carry heavy domestic weight curtains with ease.  This is one of the weak points with every diy store bought corded curtain track.
Even some custom made tracks suffer with weak overlap arms.  Over a period of time the arm starts to droop down under the weight of the curtain. Then finally one day it just collapses.
You won't have to worry about this happening to you if you order one of our corded curtain tracks for bay windows.
The cords on our curtain tracks
"Hi Lee, I'd also be happy for you to give my email address to prospective customers who want to contact existing customers.  Yours is such an unusual business, that I imagine a lot of prospective customers probably hesitate because they can't quite believe that buying a fitted curtain track online really works.  I can reassure them that it does!  Paul, Maidstone"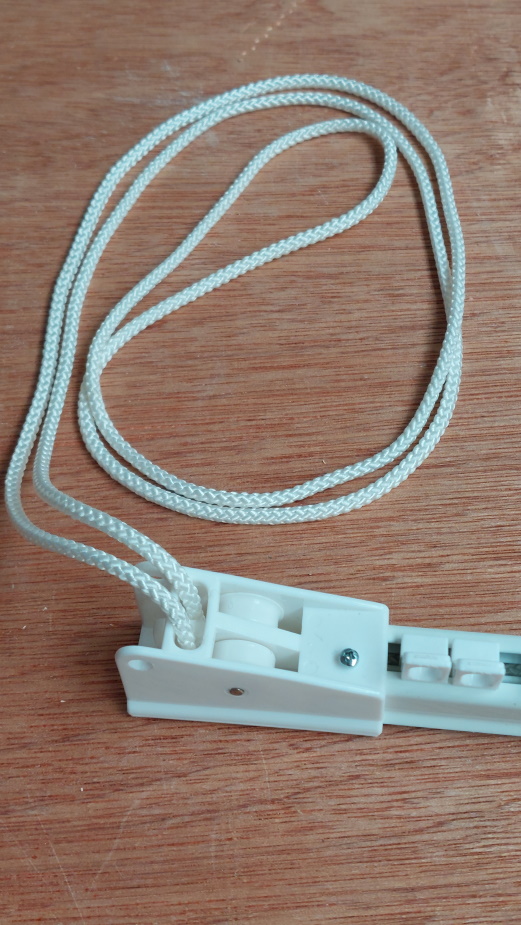 Another great things is the thickness and durablility of the cord use to control the curtains. As you can see here the cord is twice as thick as store bought corded track.
This means you can get a far better grip of the cord when pulling down to open and close your curtains. You can also benefit of having a cord control on both sides of the track. This means with larger heavier curtains. You are only moving one curtain and not a pair.
The other great benefit when doing this is that it puts less strain on the last wall or ceiling bracket. As you only have the weight of one curtain to move.
Child Safety Regulations!
All made to measure corded curtain tracks now have to meet child safety laws. That means that the cord loop has to finish no lower than 150cm from the floor when the track is fitted over your window. You don't have to worry about the cord loop being the right length. We make sure every track we supply is correct before it leaves us. 
Occasionally, I get customers asking me to make the cord loops longer. So they can reach them lower down. This is sometimes because they can't reach up because of mobility issues. Or sometimes it's because there is something in front of the window. Meaning they have to reach over more than usual.  The answer to this request is always the same "NO".
We won't break the law and more importantly put a child at risk of strangualtion.  If accessing the cords presents a real challenge. Then I do have a solution to this problem. 
Electric powered curtain tracks will cure any of these problems.  I know they are not a cheap option but they are not as expensive as they used to be. So if you have a problem window then this might be a possible solution. 
Cord channels and why do they matter?
Another great thing thing that beats store bought corded tracks is the "cord channels". 
In the image here you can see the cords sitting in thier own round channels within the track. Separate from the channel where the gliders slide or roll.
This is not the same as cheaper corded tracks where the cords and the gliders travel across the track in the same channel. Needless to say this causes problems over time. Either the cords get tangled up with the gliders. 
Or especially true for bay windows the cords fall out of the channel. Then start to hang down below the track.
Another benefit of these tracks having separate cord channels. Is the abitlity to reverse bend the tracks. So what does that really mean. It means you can not only have bends in your track within the bay. You also have bends out of the bay into the room on each side. This means you can stack the curtains off the windows within the bay.
You can't have reverse bends out of the bay with store bought corded bay window curtain tracks. Having no separate cord channels means the cords will simply drop out of the track on the reverse bends.
Also, just look at the thickness of the metal in this track.  Even with metal store bought tracks you won't get the same thickness and strength from your curtain track.
"Hi Lee, I wanted to say how pleased I was with the track. It wouldn't have been any more perfect if you had come to my house. So thank you for the work, it was excellent.  Regards, Steve,
Rochester, Kent"
Do you have an unusual bay shape?
If you do not see your bay window shape in the images at the top of the page, or in the calculator lower down this page. Then simply let me know here. Give me a brief description and I will create a new template for you asap :-)  Also you should attach a photo of your bay. This will really help me understand things even better.
I will then send you an email within 24 hours, but usually a lot sooner to let you know the new template is ready to use. So you can get on with this project and order your new bay window curtain track made to fit your window perfectly.
Important Notice!
Don't worry about where the bends are on the curtain track. If you  order one from us you will get an email  immediately with a link to the page on our website that will give you full details on how to measure your bay shape properly for the perfect fit.
Also  note that these tracks have to be bent in our workshop. They are NOT suitable for shaping at home.
Delivery areas and our lead time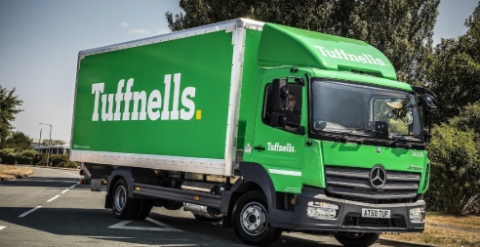 Most times of the year delivery usually takes  about 7 to 10  days from receiving your final sizes. If there is going to be much more of a delay. We will advise you at the time you place your order.
***Please also note that we only deliver to mainland UK (including Isle of White) within the quoted price. Deliveries to Scottish highlands and Islands will incur an additional charge. If unsure then please Please contact us for further details before placing your order. ***
How much will my corded bay window curtain track cost ?
These  custom made metal corded bay tracks are operated by pulling the cords to open and close your curtains. They are designed to carry up to  heavy weight domestic curtains.  Use the calculator lower down on this page to get an instant price. No hidden extras as the price includes delivery
Don't worry about where the bends are on your track before you order. All you need now is the total width you want your track to be (within a few cm's). Then choose your bay shape. After placing your order you will receive an email immediately with a full measuring guide. If you have any more questions, then you can simply ask me :-)
Not sure if you can fit one of my bay tracks for yourself. Then take a look at the video here. You will surprised how simple it is.

 "Hi lee just wanted to say I received the item quickly from the date of order and thanks for guiding me though the process ,brilliant packaging mate to , I got it fitted over the weekend me and the farther in law 10 minutes and done , looks brill lovely finish blends nicely into the ceiling ..waiting for curtains now thanks for the speedy process really happy with the fit finish and quality.   Damian, Kings Norton"
These corded bay tracks can also be made to fit very wide bay windows. Right up to 6 metres in one piece. As you can see above, they look really neat . If you are ready you can jump straight down to the costing calculator right here. 

I even supply the same screws and plugs that I use to fit these curtain tracks on a regular basis. These work for most situations when fitting to walls or ceilings.
"Hi Lee, My curtain maker was very impressed with my new bay window curtain track. She said she will recommend it to her other customers.  All the best, Sue, Lincoln, Lincolnshire"
Corded Curtain Tracks for Bay Window Ceiling Fixed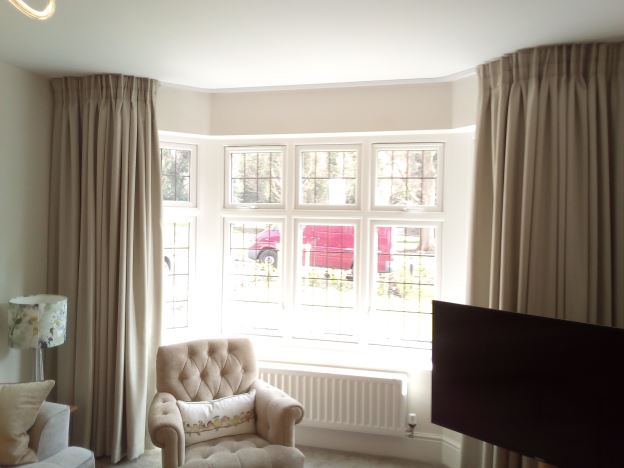 See how discreet this white metal ceiling fixed corded bay window curtain track is. After a while you almost forget its there. This gives the bay window a simple uncluttered look. Allowing the curtains to be the main focal point.

Also being made of metal it wins over plastic every day of the week. Firstly it will carry more weight with ease. It will also last and work well many times longer (10 year guarantee*) than plastic bay tracks. 

Also they just look so much better! 
If you choose the ceiling mounted bay window curtain track. Then the brackets make the track sit flush to the ceiling. This is often not the case with store bought tracks.
They use what are called "universal brackets". These brackets allow you to either fix to a wall or to a ceiling. The downside is that they just look plain ugly when fitted to a celing.
In the image here you can see the flush fit bay window curtain track we supply using the purpose designed ceiling mount brackets. In most situations you can hardly see them. Even when you do see them they look really neat with the bracket cover hiding the bracket and screw.
Another problem with DIY tracks are that they NEVER seem to come with enough gliders to hold your curtains up. Also, you will find they NEVER have enough brackets. Especially when fitting them in bay windows....... Funny how that works out :-)
You will need more brackets when fitting in bays than on straight windows.
"Hi Lee, I ordered a ceiling attached bay window curtain track from you last year, to hold heavy interlined curtains and it was easy to put up and works beautifully.  Very pleased with it and will certainly recommend you to people.
 Thank you, Heather, Sandbach, Cheshire"
Problems with old plastic curtain tracks
I'm sure you have had an old plastic corded curtain track fitted. Then one day you pull the cords to close the  curtains and a bracket breaks away. Then soon after another and another bracket breaks. Or the cord snaps!
Soon the track becomes almost unusable. The same with the plastic gliders that end up going brittle and breaking after a few years. 
Ready to get an instant cost for a new curtain track custom made to fit your bay window exactly ? Then click on the big red button just below to get an instant price.
***We supply all our tracks with quality 50mm screws and wall plugs***,  The same ones I use myself. 
Super smooth operation
The glider channel on these tracks are sprayed with a silicone spray for smooth operation from day one.  So no more struggling to move your curtains around your bay track. These tracks can be made to fit almost any angled or curved bay shape.  3 sided, 5 sided, 6 sided, and more sided... So you get the idea.
On larger bays over 350cm we recommend you have your bay track corded to both sides. This will mean less weight needs to be moved with each cord control. This is also our recommendation for all bay tracks with reverse bends out of the bay.
Packaging your corded bay tracks
I have put an image here of a large bay track packaged with protective foam. Then taped to a wooden frame for safe delivery. This will give you an idea of what to expect when your new custom made bay track arrives with you.

So be aware this is a big item and can't often be just left in your porch. Also, if you plan on a neighbour taking delivery.  Pre warn them on what to expect. 
Free delivery  is included with all bay tracks.