Bay window with glass roof
by Angela
(Cumbria)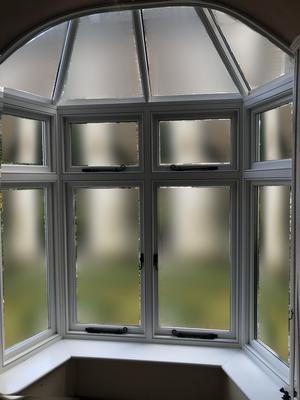 full view inside
Hi Lee,

Re: renovation project- I attach some pics of a (wooden) replacement bay window with a glass roof.

I think a curtain track would have to go between the roof and window parts of the frame. Would you fix the track to the highest point (where the roof sits?)

What should I consider when choosing the depth of the brackets?. Any advice would be greatly appreciated!

Many thanks.



Hi Angela

Thanks for getting in touch and I must admit I can't remember if I have ever dealt with a bay window with a glass roof before :-)

Anyway, you are spot on that the only place for the track to fit is to the frame at the top of the main windows.

Obviously, the best place to fit the brackets would be as high as possible but on a flat bit of the frame. See the image just below.


The back of the bracket is just over 2cm deep. So a flat bit of frame of at least 1.5cm would be best to fit the brackets to.
When it comes to the bracket size (projection). I would say the 3cm bracket would be just fine. The window handles are all recessed within the frame. So your curtains will not catch on them when moving across the track.
If you do place an order with us. Then when you are asked for your bay shape on the calculator/order form. Select "Splay bay 2 bends" from the drop-down menu.
When it comes to the track width all you need to do is to measure the widths of the frame at the top of the three windows. Then add this together and enter that figure in the "Tracksize (total width around bay)" box at the top of the form.
Then for the "track fixing to?" select option 3 "Wall over window/window frame".
Then when you get to the drop-down menu "Wall brackets in bay". Select the 3cm wall brackets.
You don't need to worry about the track position of the track. I will allow for the track sitting forward on the 3cm brackets.
Once you have placed your order you will receive an email with a link to the measuring page for your bay shape. On this form or on the order form.
Would you attach a photo looking up the roof windows. If you take it from within the bay looking back into the room.
I'm interested in seeing how the sides of the bay meet the arch. I just want to make sure there is nothing I need to factor in :-)
I think that about covers everything for now. However, if you have any further questions. Then just let me know via the
contact form
here.
All the best
Lee