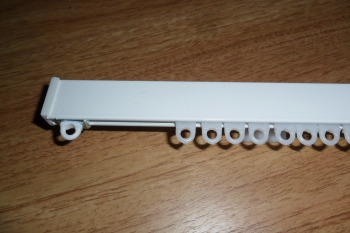 That look great and work even better
The great thing about these metal ceiling fix curtain tracks are that not only they top quality and very strong. They also come in widths up to 6 Metres (almost 20ft) wide in ONE piece. "Did I mention they also look really neat".
Want to know more about these tracks. Then take a look at ceiling curtain track here before you buy.

Bracket Options
When it comes to bracket options for your ceiling curtain tracks. You only have one because that is all you need. The one we supply is a very neat and a discreet style.
It has a sloping back  rather than being square. This means it's less visable unlesss you are stood under the track.
If have a bay window and need a track bent to fit the shape exactly. Then take a look here at the bay window curtain tracks page.