Ceiling mounted curtain track
by Niamh
(Newcastle under lyme)
Hi Lee,
Could you please review my bay window photo and advice the best kind of track to get?

There is no clearance between my window and ceiling so it would have to be ceiling mounted, It is 335cm all around.

Thank you


Hi Niamh

I have attached a sketch of 2 bay track options. The first is for the track to fit within the bay only. Also to be ceiling fixed only.

This option will cost less due to having fewer bends. However, you will not have as much space to draw the curtains off the window. This track is positioned for shorter curtains to hang just above the radiator.

The second track option is for a bay track with the ends returning out of the bay into the room on each side. These ends would be wall fixed. This track option would allow you to completely clear the side windows when open.

This track position is for longer curtains that hang in front of the radiator. Maybe even floor length curtains.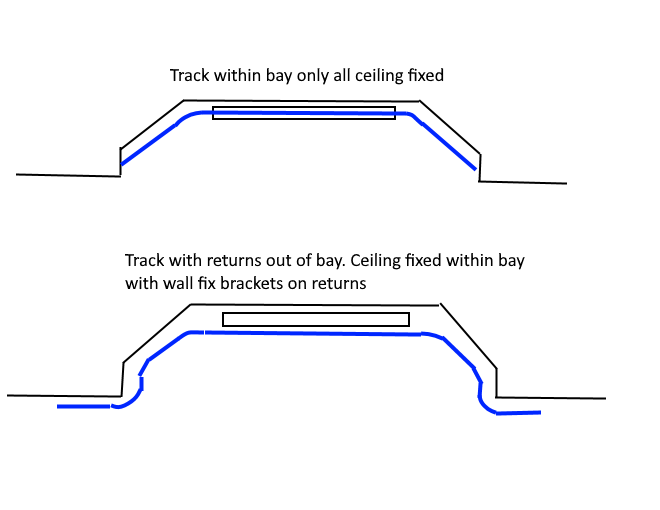 Overlap options
I notice this is for a bedroom. So I would also recommend you have and overlapping track in the middle. This will allow you to get good light-blocking where the curtains overlap. In your situation, I would recommend the overlap to be "right over left".
Most people worry about whether a plasterboard ceiling being secure enough to support curtains. Especially larger heavier curtains. I have fitted tracks and curtains to many windows like yours over the years. You will be absolutely fine on a window like this even with blackout lined curtains.
The only brackets that need to be really secure are the last couple of brackets on each end. These are under the most strain. When your curtains are open off the window. This is where all the weight is concentrated.
When you close your curtains the weight is more evenly distributed across all the brackets. So the middle brackets have to carry a lot less weight. So with the screws and plugs, I provide with all my bay window curtain tracks. You will have good fixings even in a plasterboard ceiling.
Bay track fitting
Take a look at this page on my website that discusses the best way to approach the fitting of these kinds of curtain tracks.
Bay window track fitting guide
If you have any other questions or need any help with completing the bay track calculator/order form. Then please just ask.
All the best, Lee