Curtain rail for heavy curtains for ceiling mounting in half bay
by Eric
(Kent)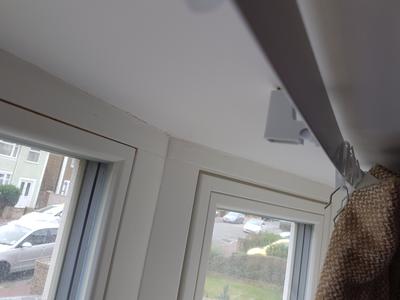 Hi Lee,

please see attached photos.

These Curtains are new for few months with ling and are heavy. The current rail is twisting slightly from vertical and curtain hooks gather and sometime touch due to some slight snagging on straight and curve. The overall rail systems not to be working and is securing screws are pulling out of ceiling.

The current rail runner (loop) seems to twist a little suffice to snag the running movement.

There is a slight in build sag in the ceiling towards the centre (16mm) as an old house but all is secure.

What do you advise as best solution please? and what product can you offer for ceiling mounting to give free running curtain pull please?

thanks

Eric




Hi Eric

Thanks for getting in touch and for the photos as they really tell the story. You are fully aware that the track you have it just not up to the job. It will never be good enough for curtains such as yours.

This type of track being plastic just has not got the strength. Also because the gliders clip over the track top and bottom. The track has to sit slightly down from the ceiling to allow the gliders to move along the track. With my track the gliders sit within a channel under the track.

This does not look very nice and reduces the stability of the track when opening and closing your curtains.

The metal track I recommend on my "Bay Tracks" page does not suffer with these problems. It fits flush with the ceiling. So no gap over the top.
It's also made with a box section profile. This makes the track light but very strong.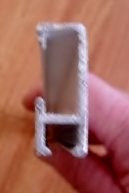 The ceiling brackets also have a slightly larger footprint when fitted to the ceiling. This means that along with the box section profile. You don't get any twisting when the curtains move. This means your ceiling fixings stay secure. Both the brackets and the gliders are made from a very strong nylon. Rather than from a soft or brittle plastic.

Having fitted many thousands of these bay tracks over 25 years. I have settled on supplying the same plugs and screws I still use myself. These work for 98% of the jobs I fit.

To give you an idea of how much it would cost to get one made to fit your window. Go on to the contact form here and attach a photo of the whole bay including the window sill.

In the meantime have a look at this page on my website where I discuss fitting ceiling fixed bay tracks. Assuming you haven't already done so.

I hope this helps you decide if this kind of bay track is right for you. It will cost a fair bit more than the track you already have. However, it will do the job properly and comes with a 5 year guarantee. Again though you should get a minimum 10 years good service from these bay tracks. All they need maintenance wise is an occasional spray with a silicone spray. This can be bought in most diy stores.


All the best

Lee