Gap in the middle?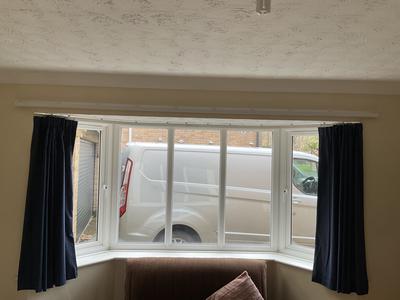 If I had a one piece rail would there be a gap in the middle of my curtains? We are having the ceiling re-plastered so it will be flat.





Hi Zeta

What happens when you hang your curtains from a one-piece curtain track. Is that the curtains when closed butt together when they meet. This sometimes leaves a little light gap at the top of the curtains.

This bit over the curtains is always harder to overlap. It's much easier to overlap the curtains lower down. Most people are not tall enough to reach to the top.

The only way you will get true overlapping curtains. Is to choose the overlapping tracks option when ordering one of my custom made bay window curtain track. This will guarantee your curtains overlap properly.

The only reason some people don't order this option is that they don't like the look. So it is really just a personal decision.

Which bugs you more the looks of the overlap or the look of badly overlapping curtains?


Overlapping curtain tracks
I hope this answered your question. However, if you have any further questions then please feel free to ask.
You can just add a comment to this post. Or you can get hold of me here
Contact Me