Short 45 degree returns, within the bay
by John R
(Surrey)
Hi Lee I have short 45 degree returns on my splay bay window 13cm each side within the bay, and a wooden strip on the ceiling I want to fit to. it has an angle on the strip like architrave, is it possible to make a track for this window?
Do you make a bracket that will allow the track to sit on the horizontal part of the wooden track? I can send pics if needed.

Regards John


Hi John

Thanks for getting in touch and for the photos. They really let me see what is going on. The good news is we can make a bay track to fit your window.

It would fit to the flat area on the wooden batten on the ceiling. Just before the sloping front edge. The ceiling (top fix) brackets project out of the back of the track by 2cm. These would secure comfortably on the flat section of wood.

I have attached an image here showing the track position.


To keep it neat looking I would go with either the one-piece track. Or select the option to have your track in 2 halves connected with a joining splice. see images below.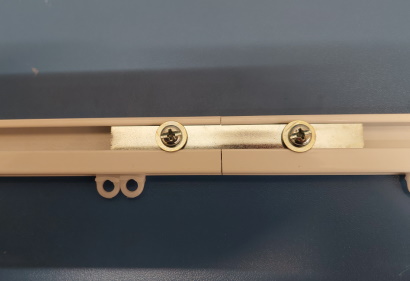 This is a heavy-duty curtain track joining splice. Unlike store-bought ones that are completely useless.
I would not choose the overlap option blow as it would stick out from the wooden batten on the ceiling and look a little messy.
I hope this helps you decide it this kind of bay window curtain track is for you. You can get an instant price for one to fit your bay by clicking on the button link at the top of this page.
If you have any further questions either now or as you move along. Then please feel free to ask. You can contact me using the
contact form
here.
All the best
Lee