Uneven bend positions on my bay window
by Jude
(West Wickham)
Hi Lee,

I have two splay bay windows with 4 bends and I'd like the tracks to be ceiling hung with wall returns out of the bay.

From the measurements I've taken I've found that the bay isn't symmetrical and the returns aren't the same length on either side. Does this matter? and are you able to make uneven bends in the track?

As an example, one bay window measures from left to right: 14, 67, 144, 62, 18 - a total length of 305cm (the first and last measurements are the returns out of the bay).


Hi Jude

Thanks for getting in touch and you ask a very good question about uneven sizes with bay windows.

The good news is that this is not a problem. We deal with this constantly. It is very rare to find a perfectly symmetrical bay window.

We draw out your bay shape using the sizes you provide. We send you a link to the measuring page template after you have placed your order. This has a guide to the sizes we need. Also, boxes for you to enter your sizes.

You can do this on a smartphone while you are actually measuring. You can also attach photos as you place your order. Or when you are sending over your final sizes.

Once we have the bay shape drawn out on the table. We refer back to the photos of your bay. If something does not look right we get back in touch. We can then double-check before we go any further.

The other good news in your case. Is that your sizes are not so far out that your bay track will look odd when fitted. It should to the eye look symmetrical.

When it comes to measuring your bay window. If you haven't already measured in this place. I recommend you measure all your sizes from the front edges (room side) of the window sills including the returns.

This will allow your curtains to hang straight down in front of the sills. On the measuring form is a box that asks how much the return sill sticks out from the wall. Your looks like it is 4 or 5cm.

This will determine the wall bracket size on the returns that will fix to the wall. The track will be ceiling fixed within the bay. Just in case you haven't already seen it. I have a bay track fitting video just below.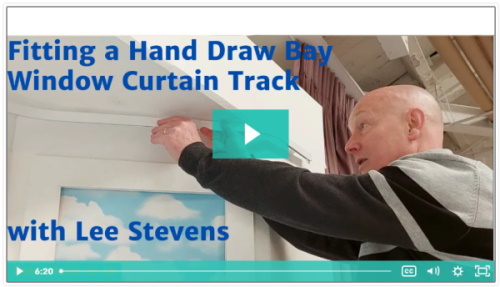 I hope this helps but if you have any further questions. Then just ask via the
contact form
here.
All the best
Lee