wall brackets
by Andy Wright
(Essex)
Hi -

I intend to order a bay window track - two bends and two bends for the reverse with ceiling fixings within the bay and wall brackets for the reverse. to get my measurements right.

I need to know the gap between the wall and the track when using wall brackets.

Many Thanks
Andy Wright


Hi Andy

The standard gap between the track and the wall on the track returns is 3cm. This is just because the 3cm bracket is the most common one used.

However the gap between the wall and the track on the bay track returns can be up to 8cm. This is because there are 4 bracket options, 3cm, 4cm 6cm & 8cm.

On rare occasions there maybe an obstruction on the wall that you want the curtain to hang in front of, such as pipes or a chunky picture rail.

Having said all that I'm assuming you are hanging long curtains that will hang past the window sill, not on the window sill. If so then the best way to measure your bay would be to follow the leading edges of your window sill.

Then follow the short bit of window sill that protrude out a little from the wall on the returns on both sides. These measurements would become the base line for the track. Effectively the place where the back of all the track brackets would sit. So the front edge of the track would be 3cm in front of the base line.

I have added a simple diagram below to show what I mean. This is for a Splay bay with returns but works for most bay shapes. These are the main measurements to determine the lengths of all the sides of the track.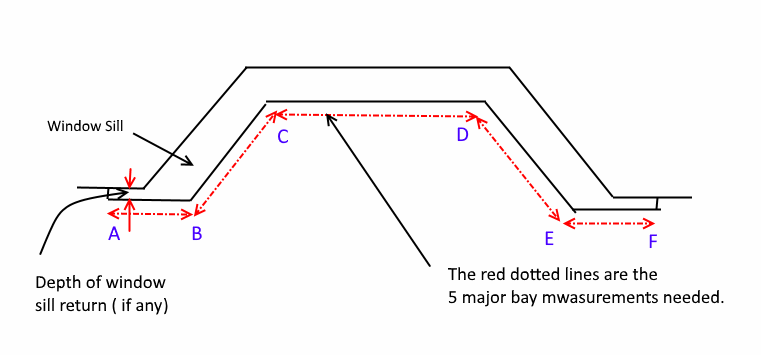 The sizes below are the the final measurements that allow me to work out the angles needed to create the right shape.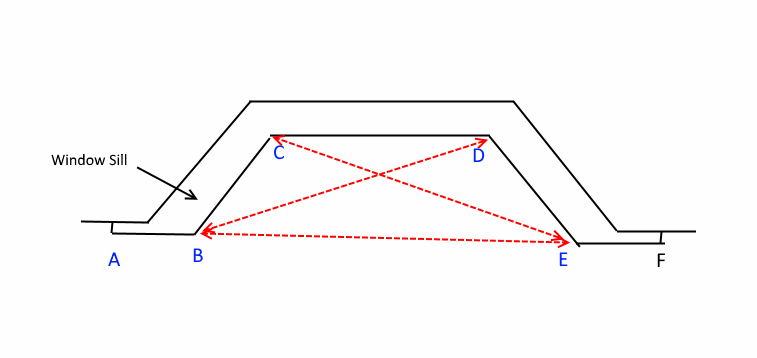 I hope this all makes sense and helps you with this project. If you need more info or just have another question. Then please feel free to ask me.

When you enter the initial details in to the order form on the bay window curtain track page. You will receive an email with a link to a page where you can down load a measuring template.

This page is also where you enter all the final measurements and delivery details.

I am in the process of updating the templates to reflect the measuring advice on this page. Again if anything is not clear please just ask.

One final thing is that I am going make it compulsory to add a photo of the window when submitting the final measurements. Having an image of the window and having the measurements further reduces the chances of either of us getting it wrong.




All the best

Lee