Bay Window Curtain Rails
  Why I won't Use Any But These!

These are the best hand draw bay window curtain rails I have found in 25 years of fitting and hanging curtains.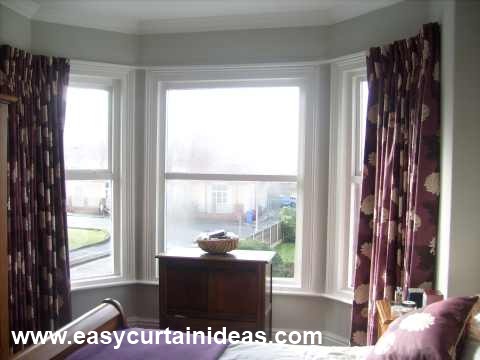 When it comes to bay window curtain rails, the people I deal with fall in to 2 groups.
The ones that don't realise how bad their rail is (usually plastic) because it has always been that way. They have just assumed that's  that the way its meant to work and look.
The second group are the ones who know how bad their new track performs and looks right from the get go. That's why they're talking to me ;-)
So what can you do about it, and what should you use! ...Glad you asked that question, as I have the answer right here :-)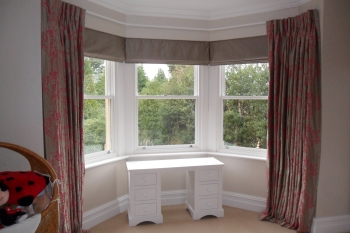 I have used these metal curtain tracks for nearly 20 years and will continue  for probably another 20 years. This is a big bay window and these are also big heavy curtains. It copes with ease on windows like these.
We always add more brackets and gliders than you get in store bought packaged tracks. With bay windows the track needs more support at the bends.  So the extra brackets are are a must for a well fitted track.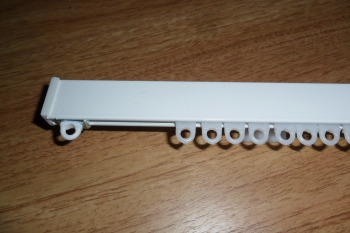 Here is a close up of the track which looks really neat.  It leaves the curtains to do the "talking".
I think you will agree it looks really neat :-) It "does what it says on the tin". These items in my check list below are my top requirements for a successful bay track.

Essentials Check List
Must carry heavy curtains with ease.
Curtains must glide open and closed easily.
Must bend to fit any shape bay window.
Can when needed fit flush with the ceiling giving a really neat and discreet look.
These are my personal "must haves" for a successful bay window curtain rail. Anything else is nice but not essential.
You may have been thinking about using a bay window curtain pole. My advice is don't even go there, you will regret it. However that's a story for another day.

Bay Window Curtain Rails To Fit Any Shape Bay
The tracks in these different shaped bays have all been bent to fit exactly. These tracks cannot be bent by hand. The bends are created using special bending tools we use in our workshop.
You simply have to complete the measurement details on the order form. Then we will create a bay track to fit you window exactly.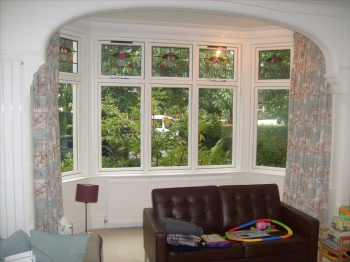 Bay behind an arch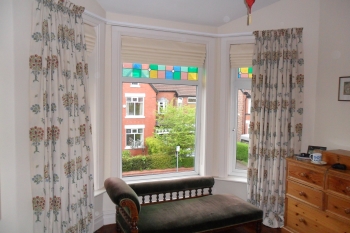 3 sided splay bay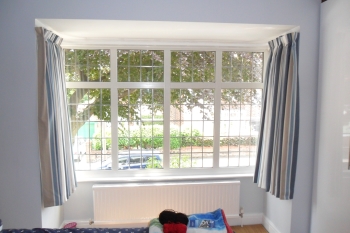 Square bay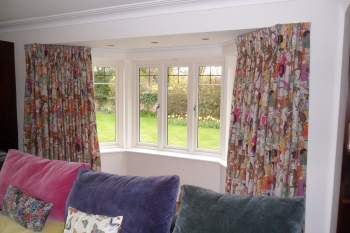 Large bay window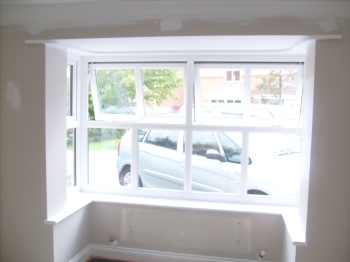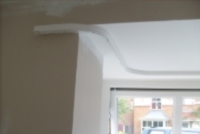 The thing you will have noticed is how easy on the eye these tracks are. After a few weeks you will hardly notice they are there.
Bay window Curtain Tracks That Carry On Working Forever
The image below shows the metal curtain track close up. It really is a neat looking curtain track that will last for at least 20 years if not more. A kind of fit and forget type curtain hardware. Unlike plastic curtain tracks that just don't last in the long run.
The other image shows the end section of the track profile with the end cap removed. Unlike some similar looking tracks. This is made from a thick guage aluminium. Giving this curtain track the ability to hold some really heavy curtains.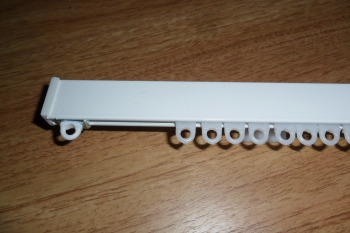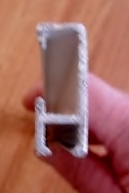 Discover how much it will cost to get bay window curtain tracks to fit your window exactly.
After reading this page about bay window curtain rails you can find out how to measure up correctly for your bay track and see how much it will cost here.