Small rail / pole for window
by Frederick
(Pulborough )
Hello, we have two small windows that sit on either side of some patio doors in a recent box bay extension we have had.

We would like to hang something just to take the bareness away. One. The windows are 370 x 270 on each side of the bay so would require 2 small poles. We would like something in metal if possible with rings which can attach the curtains to.

Please let me know if something can be made to fit. Thank you, I have attached a photo for you of one of the windows,


Hi Frederick

Thanks for getting in touch and for sending over the photo of your window. I think what you are after is a small one bend bay pole like the photo here.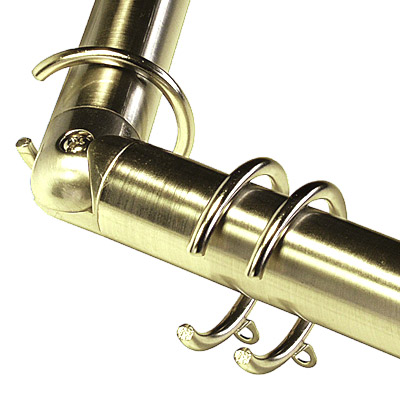 However, we don't sell these as they are not good for working curtains. The open-back rings struggle to pass the brackets no matter how careful you are. They also don't like going around the corner bends on the pole.

If you only plan on hanging dress curtains and don't want to open and close them. Then this could be an option for you.

The only option I can offer is a metal curtain track that is bent to shape with a smooth curve.
Your curtains would open and close with no problems. If you decide this is something you would like then please get in touch with me here.

As to where you can buy the bay poles if this is your prefeed option. Many DIY stores sell these and I have put a link here to one at Dunelm


You would only need to buy one bay window curtain pole kit. As effectively you would have enough bits and pieces in the kit to do both corner windows.

The only downside to this is that it can be quite tricking getting these t fit well. So hopefully you are quite handy with a tape measure and a hacksaw :-)

All the best

Lee