Hi Lee-Please help with my queries?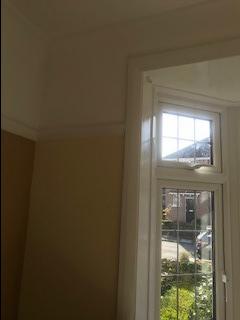 Hi Lee,

The Bay is uneven -it measures 14 cm on the left Straight (facing), 56cm on the diagonal window, 211 cm on straight, and then another 56cm on the right diagonal, and then 12 cm straight.

This design didn't seem to be an option? As you can see the window is very close to the ceiling. Please let me know if you are able to do it? The cost? and of course How long?

The Bay is framed with wooden architrave, so I don't know whether you would recommend coming out of the bay to have the rail on the walls to take the curtain off the window as the bay has seating in and the curtains would not be floor length.

What would recommend?

Regards

Kelly


Hi Kelly

First of all, don't worry about your bay not being perfectly even. Not many bay windows are, even new builds :-)

You have what I call a "5 sided bay window with 4 bends". You have 2 choices when it comes to fitting a new bay window track. I have attached an image here of the two possible track shapes. These are what you will see on the website form.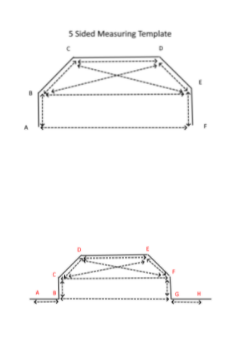 The first choice would be a track that fits within the bay only and is all ceiling fixed. This would be made to fit 5cm away from the window frame and the ends would be curved back to the side walls to close any gaps when the curtains are hanging.

With this option, your curtain when stacked back may cover some of the side windows. Based on your sizes and having a one-piece track it would cost a total of £222.72 including delivery. This is based on a total track width of 349cm.

The second option would be to have effectively the same as the first choice but with the track returning out of the bay on each side. This shape is called the "5 sided bay with returns" The returns on the track would fix to the wall with wall fix brackets. I would recommend the 4cm brackets. This would allow the track to sit over the wooden window surround.

this option would mean your curtains could hang completely off the side windows when stacked back.
This would cost a total of £289.14 including delivery. This is based on a total track width of 380cm.

So the real choice between the two options other than the price is whether you want to completely clear the curtains off the side windows. or if you are happy if they hang a little over the side windows.

Also, the second thing is the overall look to the bay. I have fitted many bays with curtains on the returns. That includes shorter curtains. This always looks better if the curtains are not just at the window sill level and are a bit longer. It all really comes down to personal choice which way you go.

If you would like to place an order on the website and you are not sure of anything. then please just ask and I will guide you through. Once you have placed the order you will get an email with a link to the measuring page for your bay shape. This is where you will let me have all the sizes I need to bend your track accurately.


All the best

Lee